DUPONT DANIEL
buys and sells a lot of American Radios and some European models on a flea market, Porte de Vanves, in Paris.
L'adresse d'un collectionneur du marché de la porte de Vanves à Paris, pour tout échange et vente de collections.
Phone : 01 48 44 42 64 - GSM : 06 08 57 31 03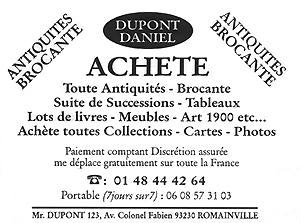 ---
DOCKS DE LA RADIO
A very good address in Paris for antique radio collectors.
You can find everything to repair your old radio : tubes, capas, rectifiers ... all parts. Good Prices.
Open every days except wednesday and thursday.
L'adresse idéale pour trouver des radios anciennes, civiles ou militaires, et toute pièce détachée.
34 rue Jules Vallès - 93400 SAINT OUEN
Phone : 01 40 11 09 90
---
DREAM ON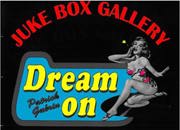 This is a good address in Paris for those who really want to enter the world of " happy days "
Juke Box, Jack Pot, Toasters, Gas Pump, Old American Radios...everything for US decoration.
17 Bd Pereire - 75017 PARIS FRANCE
Phone : 01 44 40 20 20
---
You are living in NYC ?
This is a famous address for those who really love high quality antique radios :
Most of them are catalin cabinet radios and are in real show room condition. You could find Nostalgic Collectables
1850's to 1950's.
I have discovered this place when walking on Madison Ave in Manhattan and since then I'm dreaming of it ...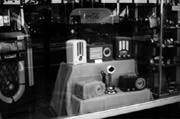 Good Old Times
THE UNIQUE EXPERIENCE
956 Madison Ave., NY, NY 10021
Tel./Fax 212-396-3546
---
Return to American Old Radios Home Page.
---